The Truth of the Fair Tax Amendment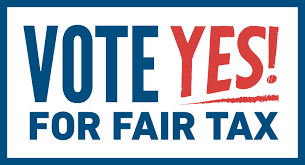 It's crunch time in the fight for fairness in Illinois, and you've probably seen the ads flying back and forth. One issue coming up again and again is retirement income.
Here's the truth: the Fair Tax amendment does not tax retirement income. Period.
Illinois is one of the few states in the nation that does not tax retirement income under state law, and the Fair Tax amendment does not change that law in any way, shape, or form. That's one reason why organizations like the CFL and senior advocacy groups like AARP Illinois and the Illinois Alliance for Retired Americans support the Fair Tax amendment.
Wealthy special interests are doing whatever they can to confuse and distract voters about the facts in order to keep their own sweet deal. That's why it's so important for you to know the truth, and for you to talk to your family, friends, and neighbors - especially seniors - about your support for the Fair Tax.
Click here to see why AARP Illinois is voting YES on the Fair Tax to support seniors.
Illinois' tax system is one of the most unfair in the country. With the Fair Tax amendment, working people will get a tax cut while the wealthiest will pay a little more. But nothing will change with retirement income - period.
(Article by Chicago Federation of Labor)