WHO WE ARE

Teamsters District Council 4 is made up of hard-working men and women throughout the state of Illinois and Indiana, we are an affiliation of members of Local 458M and Local 568M. Our members are diverse and traditional in the Graphic Industry, we represent from Garment Stitchers to Newspaper Pressman our strength is found in our diversity in our trade!

Teamsters District Council 4 represents its members through our Local Union Officers, Local Union Stewards, and Local Executive Boards. Our Union has been active for over 100 years in the Chicagoland area and we are proud of our history and knowledge in the Graphic Industry. Having the International Brotherhood of Teamsters behind us we work to negotiate the best contracts possible and to provide the strongest day-to-day union representation for our members.
| | | |
| --- | --- | --- |
| | | |
| | | |
| | | |
Local 458M Membership Meeting for October will be via Zoom.
October 14, 2020 at 10:00 a.m.
https://teamster-org.zoom.us/j/87024329027
Meeting ID: 870 2432 9027
One tap mobile: (312) 626-6799 - 87024329027# (Chicago)
October 14, 2020 at 5:00 p.m.
https://teamster-org.zoom.us/j/86741096762
Meeting ID: 867 4109 6762
One tap mobile (312) 626-6799 - 86741096762# (Chicago)
Only Active and Retired Local 458M Members will be allowed to attend the zoom meeting. To check elegibility please contact the local office at (630) 668-4337.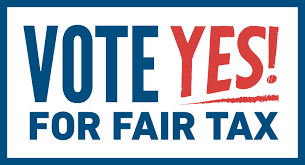 It's crunch time in the fight for fairness in Illinois, and you've probably seen the ads flying back and forth. One issue coming up again and again is retirement income.
Here's the truth: the Fair Tax amendment does not tax retirement income. Period.
Illinois is one of the few states in the nation that does not tax retirement income under state law, and the Fair Tax amendment does not change that law in any way, shape, or form. That's one reason why organizations like the CFL and senior advocacy groups like AARP Illinois and the Illinois Alliance for Retired Americans support the Fair Tax amendment.
Wealthy special interests are doing whatever they can to confuse and distract voters about the facts in order to keep their own sweet deal. That's why it's so important for you to know the truth, and for you to talk to your family, friends, and neighbors - especially seniors - about your support for the Fair Tax.
Click here to see why AARP Illinois is voting YES on the Fair Tax to support seniors.
Illinois' tax system is one of the most unfair in the country. With the Fair Tax amendment, working people will get a tax cut while the wealthiest will pay a little more. But nothing will change with retirement income - period.
(Article by Chicago Federation of Labor)
Members of the Chicago Health and Welfare will be able to get their flu shot at any Optum RX Pharmacy for FREE.
All you need to do is locate an Optum Rx Pharmacy near you by contacting Member Services at 1-855-312-7412 or go to your optumrx.com account and locate a pharmacy.
Do you have your Optum Rx card? If not please contact BMGI at 630-472-0626 to request one to be sent to your home.
When you receive your card, you can set up your Optum RX online account by following the next steps:
Visit optum rx

Select Register

Fill in your information

Create your username and password
By creating an account, you can order your prescription online ask questions, etc.

Are you registered to vote? if not please click on the following link: Register to Vote in IL and register now!
This is one of the most important elections for everyone. The outcome can affect our pension benefits, social security, and how our country will move forward in the future.
All Teamster Members must support candidates that support the labor movement, and can help secure our pension benefits.
Remember if you wish to vote via mail you must submit an application before the election (minimum 5 days before election), please see the attached pamphlet that can assist you on the time frame.
Download:

VOTE BY MAIL.pdf
MEMBER INFORMATION

This service is offered to the members who are part of the Union's Health & Welfare Program.

The GCC/IBT District Council 4 Health & Welfare Fund encourages eligible members and their spouse to participate in our annual Preventive Care Exam program.

Each participant will receive a $200 Gift Card, provided by your Health Fund!

Appointment slots are available for you now – and the exam is covered at 100%!

See the video above to learn more about our new Preventive Care Program.

To make an appointment, call Health Dynamics at 414-443-0200 (option 5) – or use the Locations Link below to find the examination site that suits you best and call them directly.

---

UNION DISCOUNT PROGRAMS

As a Union Member you are elgible for services at a discounted rate, Scholarships and much more to view what benefits you are eligible for please click on the following link: https://www.unionplus.org/
LABOR RADIO

The Leslie Marshall Show: A nationally-syndicated radio show hosted by Leslie Marshall. Her show frequently highlights issues of concern to unions and working families across the country.

The Union Edge Show: hosted by Charles Showalter, this daily show based in Pittsburgh and available on-line features topics that are important to the middle class and members of labor unions.

Workers Independent News: a national radio show based in Madison, Wisconsin, the site of one of the largest civil actions against a state governor, this daily program recently featured Jim Hoffa, Teamsters General President, in an interview discussing the political landscape.